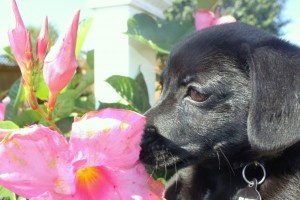 As spring arrives, many of us are planting new gardens for the season. Gardens are great places to spend time with your family, but make sure you are aware of the dangers that some plants and chemicals can pose to your pets.
Many common spring time plants are toxic to dogs and cats. Unlike children, your pets do not understand not to eat them. Azaleas, daffodils, lilies, tulips and hyacinth are all extremely poisonous if ingested by animals. If you choose to plant these beautiful flowers in your garden, make sure they are out of reach from you pets. Other plants can pose dangers if ingested as well. Before planting, do your research. If they are toxic, avoid planting where pets can access.
Be cautious when using pesticides and fertilizers as pets do not know that the chemicals are bad for them. Keep pets away from the area and store chemicals where pets and children cannot reach.
If you set traps to keep small animals and pests out of there garden. If you set traps, make sure the area if off limits to your pet. Their curiosity can lead to serious injury if they get caught.
Take precautions and enjoy the warm weather in your garden with your pets!
Do you have any garden safety tips for pets? Let us know in the comments section!
The post Pets in the garden appeared first on Pet Assure Blog.
Source: Blog